A Lifetime Of Architecture: In Conversation With B V Doshi
Article By Zarina Screwvala and Nupur Sampat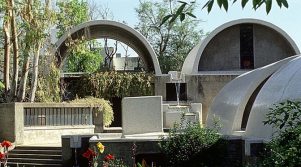 "Projects must go beyond the functional to connect with the human spirit through poetic and philosophical underpinnings." – The 2018 Pritzker Architecture Prize Jury Citation for Mr. Doshi
On 30th October 2021, New Acropolis Culture Circle hosted renowned architect Balkrishna Vithaldas Doshi, sharing his life experiences in a talk titled 'A Lifetime of Architecture'.  Charting out his early years of learning and practice in the field, he spoke passionately about understanding architecture as a living and ever-evolving concept. "It's about living, and not just living, but living together, about how communities and societies can grow and become one.", he explained. Mr. Doshi was born in Pune, he studied at JJ School of Architecture Mumbai, and moved to London and Paris to study under the famous architect Le Corbusier. Later in Ahmedabad, he worked with Louis Kahn. He has founded and taught at various institutions of planning and architecture like the School of Architecture & CEPT in Ahmedabad. Some of his renowned works are IIM Bangalore, CEPT University, Aranya housing project in Indore, 'Amdavad ni Gufa' which houses the late artist MF Husain's paintings, along with Mr. Doshi's own workplace 'Sangath', which is also a public space.
He was awarded the Padma Bhushan and has won several awards in the field of architecture including the Pritzker Prize, and most recently, the 2022 Royal Gold Medal by The Royal Institute of British Architects.

Mr. Doshi shared some of his life lessons including the need to challenge oneself, the importance of continuous learning and looking at life as a celebration. This article shares some of the key ideas he spoke about.
On being open to learn

I started the school of architecture without being qualified, without having a degree in architecture. Later it became a centre for environmental planning and technology, and then a university. If one understands that all this diversity is another kind of opportunity to learn, to grow, to experiment and go beyond, then one is always open, despite not being qualified.
When my mentor Corbusier would sit next to me and start talking… it could be about anything, but he had the idea of transforming it. In one instance, he would absorb it, and in another he would invent it. I learnt absorption, invention, adoption, addition. Every day, every moment I only look out for one thing: Can I do something new today?
Can we align to a Life that is constantly growing, changing and modifying?

One thing that I picked up early in life was the idea of constant growth, change, modification and surprises. This is how I was brought up.  My grandfather had a workshop and it got burnt and he made another workshop, and he added an extension and eventually the family home grew from one floor to several floors. As uncles and cousins came and stayed, the home kept changing, I observed diversity, unity, acceptance and finally celebrations.  I learnt that crises will come and go, but the ability to celebrate all of it continued. And you may like or dislike/resist it, but life would continue to unfold. When I do professional work, the client may like it or may not. It may be that somebody else comes and changes it further. The questions that emerge within me are: Is this the end of the situation? Or is it a beginning of something new?"
Identity: am I a drop of water or am I the ocean?

During my childhood, I visited many temples in India, I wondered at the fluidity, joy and connectedness that one could get in a temple, even after so many centuries.  I realised that these temples gave everyone a chance to be connected to them, their basic forms were simple and done with care. On one column you see the face of a horse and on the other column, is another animal; and then I look at it and realise that it has been formed through so many people, thoughts and virtues.
Philosophy offers me the clue that there are no limits, there is no straight line, life is like the river, like flowing water. I often wonder, where does the water drop go? That water eventually adds on, modifies, changes, absorbs other currents, tributaries… It doesn't leave the earth, but it expands, it flows, it comes together and eventually it becomes the ocean.  I always wonder, is the drop still saying, "I am the drop" or does it say "I'm with the ocean, I am part of the whole?" I ask myself – is it not really the essence of life to become the whole? And whatever we are, we will evolve, we will modify, and we will become true to ourselves, we will become One.
We have a small water body in the office with lotuses. In the mornings the lotuses are always absolutely fresh and open, and they close by sunset, and again the next morning, they open. I wonder how the lotus manages this? How does it work so harmoniously with the sun and reopen fresh every morning? If one can really and totally surrender, then will nature come to help you, to guide you?
The Aranya housing project – taking architecture as a 'living project'.

Mr Doshi speaks of architecture as a catalyst for change. He took an oath early in life, to provide the poorest with a proper dwelling. One of his special projects is the award-winning Aranya low-cost housing project in Indore. He created a plinth, electrical connection, and toilet, allowing the families to build their own homes. The idea was to empower families to build their own houses and make additions according to their abilities. Today, it supports a vibrant community of over 80,000 individuals. This project won him the prestigious Aga Khan Award for Architecture.
While trying to create this, I didn't want to get too influenced by the disparities that exist and how we as a society segregate people into high class, middle class, low class etc.; rather I thought that "people live there". All the disparities and discrepancies come because we have never taken our practice of architecture as a living practice. Living practice is about humanity. In my childhood, a slum opposite my father's home, made me always wonder about their lives. Once, I overheard a conversation between my family and a lady from the slum; she was crying because her husband had beaten her. I went to see her home and it was a small shack, with no furniture, there was nothing. I was in the 4th standard, and it was then that I decided that I would strive to provide every poor individual with a facility, with a dwelling space to sit, to sleep, to work in.
I design in a manner that allows the buildings to 'live and grow', not freeze. It is not architecture; it is about living. And not only living, but living together. Today, Aranya has become a fantastic place to see how communities can grow, build, and rejoice… and eventually they all become one, not stay separate.
The role of architecture as a celebration of life.

Is an architect not connected to society and a way of life? Is he or she not connected to giving people gardens, open spaces, less traffic, avenues, parks, schools? None of this is happening today. Because we are 'separate', we have become so narrowly specialized, akin to horses with flaps around their eyes, with a narrow spectrum of seeing.
My architecture is all about the life of people, the climate, the temperatures, the constant conditions. I am often surprised with what emerges. One must know and accept that change and growth is always going to happen, hence architecture to me, is about something that welcomes growth; we add things, we celebrate. Rejoicing, celebrating and allowing growth naturally are key aspects of architecture for me.
I prefer to use the word 'habitat'. A habitat is a place where you live, you inhabit and you celebrate life. A space which is fluid and so beautiful, you should be able to do what you want to do there. You can lie down, sit down, loiter; it should not be designed to do only one kind of function, it should be fluid.
With today's nuclear families, restricted resources and urban spaces, we are gradually learning to narrow down further and further because of restriction and limitations, most of which are imposed on us and are not out of our choice. Hence, we have ended up missing the old plan of a house or a township where everything fundamental for a mixed land use is at close quarters for public, for society to gather, and use a temple, a school, a shop which is easily accessible without expending too much energy. You are able to fully utilise your energies, with many choices at hand thereby having more time. With time at your disposal, you experience rejoicing. As human beings we are interested in celebrating life.
Mr Doshi's philosophical perspective has helped us understand how one can use whatever profession they are in, to contribute to a better world. He inspires us to build the conviction of unity as our identity and to live the principle of fraternity. He teaches us to learn to accept and align with the ever-transitioning nature of life, and use all challenges to grow, evolve and to celebrate life.

Image Credits: Vastushilpa Foundation/Balkrishna Doshi Archives
The entity posting this article assumes the responsibility that images used in this article have the requisite permissions
Image References
Vastushilpa Foundation/Balkrishna Doshi Archives
Permissions required for the publishing of this article have been obtained