William Morris, a 19th century idealist
Article By Natalia Lema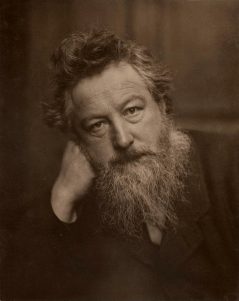 Although perhaps most famous as an English textile designer, William Morris (24 March 1834 – 3 October 1896) was also an artist, writer, translator and socialist activist. Inspired by the philosophy of John Ruskin (art critic and champion of the Pre-Raphaelites), Morris was against the tasteless industrial production of arts and promoted the hand-crafted art of artisans, whom he saw as artists. Interested in medieval history and architecture, he also appreciated the values of chivalry and the sense of community that he believed was missing in his time. Morris joined a 'Brotherhood' that later on gave birth to the Arts and Crafts Movement. Its ethos was that art should be affordable for all people and not only the elite.
He was also admired for his poems and novels. One of these tells the story of a young man who through knightly adventures sought the Well at the World's End, a well that has magic effects on those who drink from it. Interestingly, it is said that his writings influenced Tolkien. In his 40s Morris founded the Society for the Protection of Ancient Buildings, the intention of which was to keep alive the historical element in ancient buildings and to repair rather than restore. Today this Society has to be notified of any changes to cultural heritage buildings.
The William Morris Society was founded in 1955. Exhibitions of his work can be found at Kelmscott House in Hammersmith, which was his house for 17 years until he died, and at the William Morris Gallery in Walthamstow.
Image Credits: By Frederick Hollyer | Wikimedia Commons | Public Domain
The entity posting this article assumes the responsibility that images used in this article have the requisite permissions
Image References
By Frederick Hollyer | Wikimedia Commons | Public Domain
Permissions required for the publishing of this article have been obtained