The Monkey King and the Mangoes
Article By Anonymous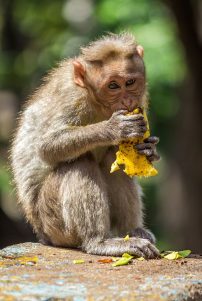 Once upon a time, the Buddha came into the world as a Monkey King and ruled over 80,000 monkeys. He was very tall and strong and had wisdom like the sun. In his kingdom on the banks of the Ganges River, there was a mango tree as big as the moon. The 80,000 monkeys jumped from branch to branch chattering and eating the lovely fruit that was big and sweet and delicious. Sometimes a ripe mango fell into the river.
One day, the Monkey King strolled downstream and came upon a river palace where a human king lived. "Soon danger will come if the mangoes float downstream," he told the monkeys. "Pick all the mangoes and flowers on the trees and take them deep into the forest."
But one mango, hidden by a bird's nest, was left unseen by the 80,000 monkeys. When it was large and ripe, it fell into the river and floated downstream where the human king was bathing.
The human king, who was very curious, tasted the beautiful mango. "This is delicious!' he exclaimed. "I must have more. Servants, find all the mangoes and bring them to me at once!"
Deep in the forest, the servants found hundreds of mango trees. In the trees were the 80,000 monkeys. When the human king heard about the monkeys, he was very angry, "The monkeys are eating my mangoes. Kill them all!" he ordered his archers.
"Very well," said the archers and chased the monkeys to the edge of the forest where they came to a deep cliff. There was no way for the monkeys to escape. Shivering with fright, they ran to the Monkey King asked, "What shall we do?"
"Don't be afraid. I will save you," said their king. Quickly, he stretched his huge body as far as possible and made a bridge over the cliff to a bamboo grove on the other side.
"Come monkeys, run across my back to the bamboo grove," he called. And so the 80,000 monkeys escaped.
The human king watched all that happened. He was amazed, "This Monkey King has risked his life to save his whole troop! And all I'm doing is being selfish. I have learned a great lesson." Then he called to his archers, "Put down your bows. It isn't right to kill this King of Monkeys."
Forgetting about the mangoes, the human king went back to his palace by the river and ruled kindly and wisely for the rest of his life.
Image Credits: By Bilal Ahmed | Wikimedia Commons | CC BY-SA 4.0
The entity posting this article assumes the responsibility that images used in this article have the requisite permissions
Image References
By Bilal Ahmed | Wikimedia Commons | CC BY-SA 4.0
Permissions required for the publishing of this article have been obtained